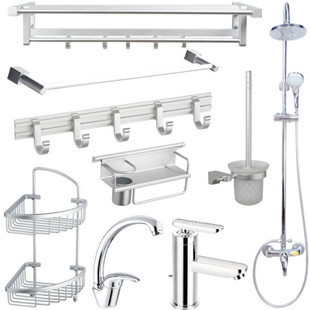 According to statistics from the National Bureau of Statistics, in the total retail sales of consumer goods in 2012, construction and decoration materials consumed 197.8 billion yuan, an increase of 24.6% year-on-year. The sanitary ware market in 2012 has exceeded 100 billion yuan, and it is expected to exceed 180 billion yuan by 2015. According to the general calculation method, bathroom hardware accounts for about 20% to 30% of the sanitary ware market, so it is estimated that the current market share of bathroom hardware is between 20 billion and 30 billion yuan, and it will exceed 10% annually. increase.

During the whole year of 2012, due to the impact of real estate control policies, the area of ​​new housing starts shrunk (the growth rate was negative), and the decrease in new construction area caused the consumption of construction and decoration materials to be weak (decrease in growth rate), which will inevitably bring about the sanitary ware industry. The negative impact, and the decline in the output of ceramic products exceeding 10% confirms this effect. We believe that the newly started housing area is a leading indicator for the consumption of bathroom hardware. In 2013, the newly-started area has achieved growth, which will be the driving force behind the continued growth of the bathroom hardware industry.

The low-end market structure is uncertain At present, the global division of labor in the hardware and sanitary industry has been established, branding companies conduct global marketing and brand management, and manufacturing service providers provide product development, design, manufacturing and assembly logistics. A considerable number of domestic companies are engaged in OEM or ODM. The production and sales of sanitary wares in China account for about 30% of the world's total, and bathroom accessories account for 35%. However, with the further deepening of the financial crisis, the sluggish export led most companies to move to the mainland market, which exacerbated competition in the domestic market.

In China, well-known brands in the US, Japan, and Europe dominate the high-end market (premium hotels, apartments, villas, etc.); the 50 to 100 large-scale companies in the country's front line occupy the mid-range market. Guangdong, Chongqing and Tangshan; more than 3,000 companies are fighting in the low-end market. As the current industry entry barrier is low, product homogeneity is severe, competition is widespread, price wars are fierce, and industry concentration is low. We therefore believe that the pattern of domestic mid-range and low-end markets has not yet taken shape.
Lifting Point,Lifting D Rings,Hoist Ring,Swivel Hoist Ring
Shandong Shenli Rigging Co.,LTD. , https://www.liftinghook.nl